UL Lafayette Political Science Alumni & Students
Courtney Hollier
Courtney graduated in 2011 with a pre-law concentration and now attends Loyola University New Orleans College of Law. She works as a student practitioner at the Stuart H. Smith Law Clinic and Center for Social Justice. As a student at UL Lafayette, she was a member of the Political Science Club, Future Leaders Internship Program, and Washington DC Internship Program.
"The writing, communication, and networking skills gained from my experience at UL have helped prepare me for a future as a professional. My favorite part of studying political science at UL Lafayette were the wonderful professors and their passion for teaching, and the insight and experience offered by the additional programs and internships."
Nagham El Kharhili
Nagham graduated in 2011 with an international relations concentration and minor in Francophone studies. She's a French citizen from Syria and used the international relations program as a stepping stone to begin her academic career. After earning her master's in communication from UL Lafayette, she worked as a public relations manager in Dubai. Right now, she is a Presidential Fellow doctorate student at Georgia State University, where she is working on two projects with the British Commission and European Union to examine the role of civil societies in countering violent extremism and how Muslim NGOs can help combat extremism.
"The more I learned in my political science classes, the more I knew that international relations was my field. It was amazing having such a direct access to caring professors that mentored us very closely from the get go."
Liam Doyle
Liam Doyle graduated in 2021. He established Accessibility in Motion, a first-of-its-kind consulting company in Lafayette that works with businesses and governments to improve their physical locations and customer service practices to better serve people with disabilities. As a student, he established the Department of Political Science's Change Program, which connects students with state and local government officials, including lawyers, lobbyists, elected officials, and aides.
"Political science seemed like a natural fit. The professors are fantastic. The level of quality in the poli sci department, in my opinion, is second to none. The amount of positivity that comes out of the department is insane.

Your average political science student is just as nerdy about government, and it's so nice to be like, 'these are my people.' It's a really fun program and I think that I can leave a legacy of change and forward motion and progress. That's only going to benefit people who come after me and I'm totally on board with that."
Kevin Fouquier
Kevin graduated in 2015 with a pre-law concentration and is now pursuing his MBA at UL Lafayette. In addition to being a linebacker for the Louisiana Ragin' Cajuns, he is an agent for Primerica Financial Services and head assistant to lobbyist Ginger Corley.
"I have always planned that after my football career I would attend law school. I knew that the Department of Political Science would better prepare me for law school, considering they offered a concentration in pre law. I was chosen to represent the university at the state Capitol this past summer through the Future Leaders Internship Program. This opportunity opened up many doors for me, which led to my current assistantship."
Ally Billeaud
Ally Billeaud graduated in 2013 with a political science major and history minor. Now she's a law student at the University of Minnesota Law School while working at the U.S. Attorney's Office for the Department of Justice District of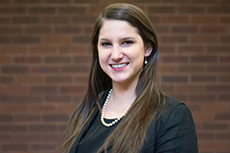 Minnesota.
"The classes were fascinating and the professors were very engaging and enthusiastic about both their jobs and students. Besides the amazing course selection, the absolute best part of the department was the selection of professors. All of my professors knew me by name and went out of their way to help me become successful after undergrad. By the time I graduated, I considered all of my professors my friends.

From taking Dr. Rick Swanson's classes, I learned particular skills for law school. I was one of very few students who had written a legal brief prior to law school. This was a massively important tool that made my first year of law school much easier than it could have been. He greatly prepared me for the economic, social, and physical commitment that law school has entailed. As for Dr. Ryan Teten, I learned the importance of networking and professionalism. He is the reason I have friends at both the state and national capitols. I didn't understand the importance of confidentiality and hard work until I participated in his intern programs, and these skills have helped me in all my job positions since. As for Dr. Pearson Cross, he made sure that our department was a close and friendly environment. He opened up his house to students' and their families, literally having a party each year for graduation. Most importantly, his transition from the west to Louisiana inspired me to go away for law school, which has been one of the best decisions I have ever made. And finally for Dr. Bryan-Paul Frost, his international law classes initiated my interest in international law. Now, I am graduating with an international law concentration and as the head of the international journal at my school."
AJ Sorensen
Amber Hargroder '10, who goes by the pen name AJ Sorensen, is a freelance journalist and Chief Storyteller and Creative Director at Words by Sorensen, a Chicago copywriting firm specializing in website content and taglines. She switched her major from business to political science after taking a course on Shakespeare in Politics, World Politics, and Political Philosophy with Dr. Bryan-Paul Frost. She was a member of the Philosophy Club, which hosted debates with faculty members from the Department of Political Science, and studied international business and politics in Copenhagen for a year before graduating.
"The faculty always went above and beyond to educate and help their students. In my case, Dr. Bryan-Paul Frost and Dr. Ryan Teten played a vital role in my experience there. Their passion for their specialties really resonated with me, and to this day, my studies within the Political Science Department still inform my continued education and worldview. Without a doubt, my independent study with Dr. Teten on Presidential Nomination Reform, as well as my thesis on Machiavelli & Morality for Dr. Frost — which won the Crisler-Levine Award in 2010 — both continue to have an impact on my life and work.

As a professional writer, Dr. Bryan-Paul Frost's guidance was invaluable. He has very high standards, and I always fought to meet them, and that made me a better writer. He also pushed me to think in different ways and challenge my own opinions. I still look back on those classes as some of the best experiences of my life. I frequently call on what I learned from those classes when working as a journalist and ghostwriter."
Corey Meaux
Corey Meaux graduated with a pre-law concentration from UL Lafayette in 2012 and graduated Cum Laude from Southern University Law Center in 2015. He is now an associate attorney at Judice & Adley, APLC.
"UL's Political Science Club was a great organization because it provided me with an opportunity to speak about the current state of politics with like-minded individuals who had the same passion for the political process as I had. It also gave me an opportunity to meet heads of local, state, and federal government, which I felt was incredibly rewarding.

All professors in the political science department molded my writing and research abilities better than I ever could have imagined. As an attorney, most people don't realize that you will spend close to 90% of your time writing and researching. Researching statutory law and prior jurisprudence happens every single day, so every attorney must have a proper foundation when it comes to quick and thorough researching abilities. Furthermore, properly articulating your thoughts onto paper for a judge or opposing counsel to read is just as important to your client's case as your skills in the courtroom. While law school definitely enhanced my writing and research skills, the professors in the Political Science Department laid a foundation that I will forever be thankful for receiving."
Ethan Melancon
Ethan graduated in 2015 with a double major in political science and public relations, and now he is a district staffer for Congressman Charles Boustany, Jr.
"My favorite part of studying political science at UL was participating in the Future Leader Internship Program (FLIP). This highly competitive program paired accepted students with a current state legislator for the legislative session. I was paired with State Senator Fred Mills Jr. for two consecutive sessions; with him I participated in constituent work, committee hearings, and legislative research. The experience opened so many doors for my future career and I gained a wealth of knowledge from those two summers.

I learned how to think, work, and perform as a professional in politics. I was taught where to find the answers to my questions. It taught me to listen and open my mind so we can work together and solve problems facing our community. Most of all it taught me how to make a difference in my community, state, and country."
Jolan Jolivette
Jolan Jolivette, who graduated in 2015, is Special Assistant to Louisiana Gov. John Bel Edwards. He previously served as the program coordinator for the Statewide Independent Living Council (SILC), was chairman of the Lafayette Democratic Parish Executive Committee, and member of the Executive Committee of the Louisiana Democratic Party. He was a regional director for Louisiana Gov. John Bel Edwards' campaign, campaign manager for a Louisiana House of Representatives race, and field organizer for a U.S. Senate race. While at UL Lafayette, he was president of both the UL Lafayette College Democrats and the Political Science Club, working to organize forums, inviting elected officials to speak on campus, organizing debate watch parties and election watch parties, hosting voter registration drives, and more.
"I had fun in my classes. Whether it was talking about state and local politics with Dr. Cross, observing elections with Dr. Teten, discussing political philosophers such as Machiavelli with Dr. Frost, or being enlightened on the matters of constitutional law with Dr. Swanson, the professors at UL were always eager to engage in discussion with their students and challenge them to think outside the box and be objective."
Paul Kieu
Freelance photojournalist Paul Kieu graduated in 2012 as a political science major. He was a photographer for l'Acadien, the student yearbook, and a member of the Political Science Club.
"I worked for a newspaper immediately following my graduation from UL, and because of my knowledge of Louisiana politics, municipal government, and elections that I gained from my time in the department, I was able to seamlessly pick up and cover campaigns and government meetings with an understanding of the context and the potential effects behind the decisions made in government each day. It helped me understand which photographs of people or objects were important to particular stories, and I feel that because of my education in the department I was able to be a more responsible and effective journalist."
Camille Gauthier
Camille Gauthier graduated in 2009 with a political science major and communications minor, after which she graduated from Tulane University Law School in 2012. She worked as a law clerk to the Honorable W. Eugene Davis of the U.S. Fifth Circuit of Appeals and is now an associate attorney at Flanagan Partners LLP in New Orleans.
"The Political Science Department does a great job of forcing you to write a lot. Although at the time I probably didn't appreciate preparing for all-essay exams, writing multiple term papers each semester, and drafting an appellate brief, doing all of those things made me a much stronger writer. Throughout my experiences in law school, clerking for an appellate judge, and drafting memos and briefs in a firm setting, my ability to write clearly and succinctly has been the single most important factor that has helped me find success in my profession.

Dr. Rick Swanson is outstanding. He knows the material well, but more importantly, knows how to teach it well. His lectures are always interesting and engaging, and he wisely structures his tests to mimic law school exams to teach legal reasoning and to promote a deeper understanding of the material."
Quincy Mouton
Quincy Mouton graduated in 2009 with a pre-law concentration as the Outstanding Graduate for the Department of Political Science and the Outstanding Graduate for the College of Liberal Arts. He graduated from the Paul M. Hebert Law School at LSU in 2015. He is now an associate at NeunerPate: Attorneys at Law in Lafayette, where he practices in the areas of admiralty and maritime, toxic torts, products liability, and insurance defense.
"My favorite part about studying political science was that it touches almost every aspect of your daily life. Because of this, our political science classes often had speaker series and open dialogue forums that would discuss world events that occurred. The open and honest dialogue helped me expand my knowledge about how the law affects people. The dialogue was always engaging and made attending class worthwhile.

The FLIP internship provided me with opportunity to intern for State Representative Nancy Landry. While interning, I was provided with the chance to assert arguments for an assortment of bills that were going through the legislative process and support these arguments through legal, social, economic, and logical reasoning. After completing the internship, I was offered a job that also furthered my skills in legal reasoning. Being involved with College Democrats, Pre-Law Club, and Political Science Club also provided me with the chance to work for State Representative Vincent Pierre. While working for Representative Pierre, I was fortunate to experience and promote civic engagement and ensure that our community is intimately involved in progress. I am forever grateful for Dr. Cross, Dr. Teten, and Dr. Swanson for being great advisors in these political organizations and expecting nothing but the highest level of involvement and community outreach."
Travis Taylor
Travis graduated in 2010 with a pre-law concentration and then earned his master's in political science from George Washington University in 2014. He is a political campaign consultant and strategist at Innovative Advertising and Adjunct Instructor of Applied Politics at New York University. This fall, he is starting a doctoral program at the University in Kentucky.
While at UL Lafayette, he founded the Political Science Club and was a member of the Law Club, University Honors Program, and Student Government Association's judicial branch.
"Trying to narrow down my time in the department to only one favorite thing is a nearly insurmountable task. There are so many wonderful things I could say, so many incredible memories formed. But if I had to choose just one, I'd have to say it was the people. We had some incredible students in the Department who were intelligent, driven, and passionate. The faculty (and of course, Mrs. Harriet!) were as dedicated to mentoring and helping students as they were to teaching. One would be hard-pressed to assemble a team of faculty, staff, and students who could equal the UL Department of Political Science.

It wasn't just the skills and knowledge I gained that have led me to success in my career, it was discovering this career even existed! I'm glad I changed my major to political science because it was the Campaigns & Elections course that introduced me to the field of campaign management and political consulting (and rescued me from law school!). I certainly gained a wealth of knowledge in the field of political science while at UL, but wouldn't be where I am today if it weren't for that one course."
Melanie Benit
Melanie Benit graduated in 2015 with a double major: political science with a pre-law concentration and business administration with a focus in international relations. She is a student in Israel at the Interdisciplinary Center of Herzliya's Raphael Recanti International School of Government, where she is pursuing her master's in counter-terrorism and homeland security and specializing in cybersecurity. Her research focuses on a country's capacity for resilience and self-determination when faced with terrorism, as well as military strategies to counter terroristic threats.
She is a research intern for the Institute of Counter-Terrorism, where she is focusing on radicalization by means of the Internet and the use of tunnel warfare domestically and internationally.